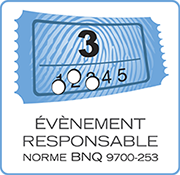 Help us further reduce our environmental footprint:
Bring your reusable water bottle to fill it at the water fountains on hand at the venue (bottles will also be available for free on site for participants who would like to have one).
Use the recycling bins available during the event.
Use public transit or carpool to get to the Québec Convention Center.
Sign-up to the newsletter or visit the website to stay informed.
Avoid printing the program; use the electronic version instead.
Here is a list of the actions we have taken to create an event with minimal impact on the environment:
Selecting local suppliers committed to sustainable development and steered by social considerations;
Fair trade coffee service, reusable dishes and cutlery;
Selecting local and seasonal foods;
Redistribution of surplus food free of charge to charities that help people in need;
Recycling residual waste and composting organic material;

The target of maximum residual waste for disposal generated by participants is set at 20 grams/person per day.
A minimum of 80% of the wasted created must be recycled and/or composted.

• Three categories of actions for the management of material, energy sources and water: source reduction, reuse and recycling;
• Reduction of paper printing to a minimum: program delivered online on PDF, digital signage, etc.;
• Accounting of the greenhouse gas (GHG) emissions caused by the travel of speakers and participants;
• Offsetting greenhouse gases (GHGs) generated by the event with the TREE Project in collaboration with the Coop de l'arbre:
The purpose of the TREE Project is to symbolically offset the greenhouse gas emissions that results from the transportation needs of a major Canadian event by planting community trees within Canadian Biosphere Reserves (UNESCO). The 2019 edition of the TREE Project has partnered with the "Canadian Parks Conference 2019" and will offset its emissions in the Charlevoix Biosphere Reserve, located less than 100 kilometers from the site of the event, in the heart of the inhabited forest * of the MRC de Charlevoix.
* The inhabited forest, a concept initiated in 1995 by the Government of Québec, is a sustainable development approach that puts forward the multiple resources of the forest, taking into consideration all the forest's potential (heritage, recreation, fauna, flora, forest management) and which is based on community consultation. There are currently 15 inhabited forests in Québec.